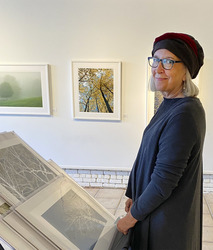 Nancy C. Woodward
Artist Statement
I am a photographic and mixed media artist.
I photograph all things magical that I come upon in the natural world. I catch a glimpse of a story hidden in the architecture of a tree and begin working my camera. Bringing my images into the digital darkroom provides the tools to coax out even the faintest of shadows and ethereal landscapes. I experiment with different color palettes and papers to bring new realms into view that my mind's eye joyfully recognizes.
I am in my studio everyday. I have waited my whole life to be doing exactly what I am doing... making art.
nancycwoodward.com